Daycare Center in West Valley UT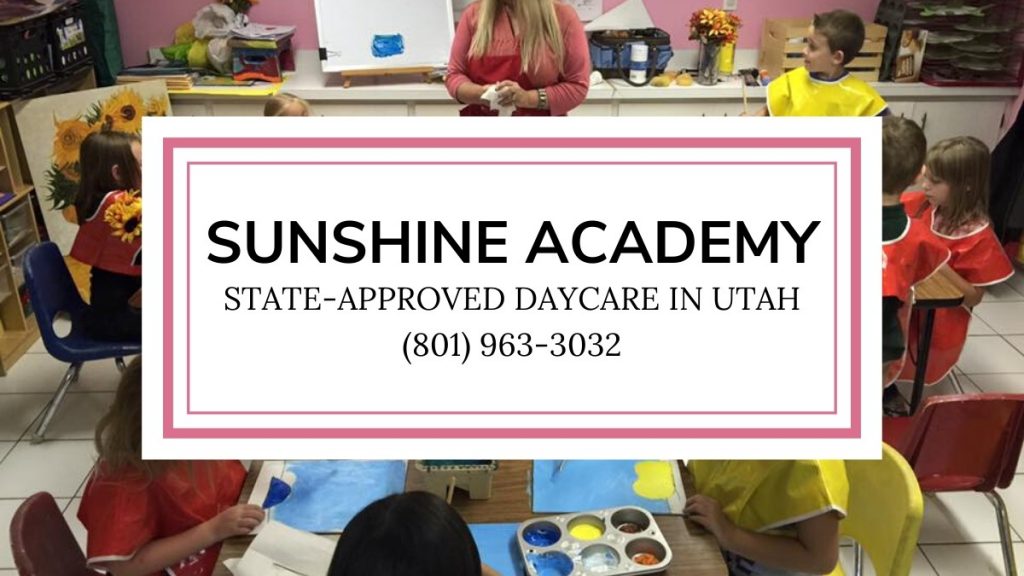 Sunshine Academy is a leading childcare provider in West Valley, Utah and offers programs for infants, toddlers and preschoolers. The West Valley UT daycare provides a fun, safe, and welcoming before and after school program for children up to 12 years of age. Learn more about the daycare center to discover how the academy meets the individual needs of children.
Infant and Toddler Program
The infant and toddler program is for children six weeks to 23 months of age. Children learn cognitive, social, language, fine motor and gross motor skills in a fun environment. The teachers also communicate in Baby Signs with children that have not started talking yet. Children in this age group participate in the following fun programs:

• Gymnastics
• Creative Art
• Toddler Play Group
• Music Appreciation
• Baby Signing
Two-Year-Old Program
The two-year-old program is designed for two-year-old children and the hours are Monday through Friday from 9 A.M. to 12 P.M. The academy provides one to five-day programs for this age group. All the experienced teachers passed a background check and possess several years of teaching experience. The daycare center West Valley UT teaches children the following skills:

• Alphabet, Numbers and Colors
• Reading and Storytelling
• Science, Math and Cooking
• Music, Art, Games and Puzzles
Preschool Program
The preschool program provides preschool children more opportunities to learn and develop academic skills. This program helps students prepare for the next level of schooling and all of the teachers participate in monthly training and annual workshops to learn new teaching methods. The preschool program teaches children the following skills:

• Arts and Crafts
• Math and Science Concepts
• Games and Puzzles
• Blocks and Building Toys
Before and After School Program
The before and after school program is ideal for working parents that cannot pick up their child when school ends for the day. This program provides transportation to and from local schools for children in kindergarten through 12 years of age. The West Valley UT daycare also accepts drop-ins when parents need childcare at the last minute.
Summer Camp Program
The summer camp program provides a safe learning environment when school is not in session during the summer months. This program is designed for children in the five to 12 years of age group. Children enjoy field trips at museums and nature parks and the daycare center West Valley UT provides a variety of learning opportunities including science, music and cooking.

Don't hesitate to contact Sunshine Academy to learn more about their various programs. They provide a safe and fun learning environment and they are committed to building a brighter future for your children.